About Me
On completing a four year, full time, course I graduated from the British School of Osteopathy in 1997, founding the Emsworth Osteopathic Clinic in Hampshire the next year. Having spent many years visiting Cornwall we have decided to make it our home. I now live near St Buryan and work in West Cornwall
I have a particular interest in peoples postural and movement habits and how they contribute to their problems and have actively developed my practice in this area. As far as I am aware I am the first person in the UK to hold a BSc (Hons) Ost. and be a Certified Structural Integrator.
For the past twenty years I have been a student of Iyengar Yoga. In addition to the personal benefits gained it has provided a useful source of inspiration for patient exercises. The importance of exercise is becoming increasingly apparent to me and I am in the process of becoming a Pilates instructor, certified by APPI.
My interests outside work include surfing, cycling, yoga, walking our Newfoundland dog, film and cooking/eating.
Osteopathy is acknowledged as a safe, effective treatment for a variety of ailments including:
Arthritic pain
Muscle spasms
Inability to relax
Certain types of back, neck, shoulder and elbow pain
Joint pains
Cramp
Fibromyalgia
Posture & alignment Sciatica
Minor sports injuries and tensions
Generalised aches and pains
Certain forms of headache
Circulatory problems
Migraine prevention
Neuralgia
Lumbago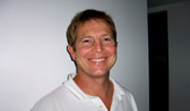 How Can I Help
Clinic Address
The Barn
Trevorgans
St Buryan
TR19 6HP
07795 327342