Structural Integration Therapy, KMI
I started a course of Structural Integration Therapy, KMI, following a road traffic accident in July 2015.
I'd had a couple of sessions before to treat my underlying condition, Ankylosing Spondylitis, and found it beneficial.
Post-accident, I suffered with a severely compromised posture and mobility so spent several months bent over.
I had several individual treatments before the 12 Series KMI sessions, which not only rectified my compromised posture and mobility to a pre-accident condition, but significantly improved my health and Ankylosing Spondylitis meaning I no longer had to take strong opiate based analgesia which I had taken for almost 18 years.
KMI may not be for everyone, but for me it was the only treatment which had any benefit, not only in the short term, but the long term too.
I would thoroughly recommend giving it at least a try.
Lee C.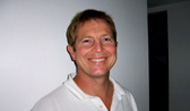 How Can I Help
Clinic Address
Hilltop
Maria's Lane
Sennen
TR19 7BX
07795 327342