Helping you back to health in West Cornwall
Since 1997 I taken a friendly, professional, whole body approach to treating people from age 9-99 for a wide and varied range of problems.
Where possible I will help patients resolve their presenting issue. Should I feel that this is unlikely to be possible I will suggest alternative treatment/ investigations or, where appropriate discuss a management plan.
For the last twenty years I have been a student of Iyengar Yoga In addition to the personal benefits gained it has provided a useful source of inspiration for patient exercises.
My interests outside work include surfing, cycling, walking, film and cooking/ eating.
I have treated patients for a wide variety of ailments including:
Arthritic pain
Muscle spasms
Inability to relax
Certain types of back, neck, shoulder and elbow pain
Joint pains
Cramp
Fibromyalgia
Posture & alignment Sciatica
Minor sports injuries and tensions
Generalised aches and pains
Certain forms of headache
Circulatory problems
Migraine prevention
Neuralgia
Lumbago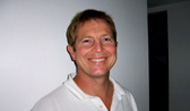 How Can I Help
Clinic Address
Hilltop
Maria's Lane
Sennen
TR19 7BX
07795 327342